2022 Alumni Notes 2015-2016
2016 
Jacob Jaffe 
I moved back to the Bay Area in summer 2021 and started a new, fully remote actuarial position in March 2021. This job is more of the same for me, which is pricing homeowners insurance in California. I'll skip over the boring insurance details, but it's refreshing that my company uses a mix of SQL, R, SAS, Tableau and Excel. There is plenty of data investigation, reconciliation and communication with external parties. I am also pleased to share that I passed my fourth actuarial exam in October 2021 and plan to take my fifth in the winter of 2022. 
In other news, I went skydiving for the first time along the coastline in Monterey, and it was an incredible experience. To me, it wasn't as scary as it looks, and the worst part of it all was the plane ride up to 18,000 feet. I am undecided if I will do it again because it will be hard to beat the views the Monterey location offered. 
Lauren Kemp 
All is well in Oxnard, California, where I work as a remote employee for Salesforce. I work as a senior analyst for Analytics & Insights in the Customer Success Group. My job is to collaborate with data engineers and business stakeholders to analyze customer data and produce insights that will allow us to reduce attrition and maximize growth. I am very thankful for my background in statistics to allow for a secure and interesting job. On a personal note, I have welcomed home an adorable golden retriever puppy named Gracie. 
Donna Martin 
I am working as a software engineer for SimpliSafe here in Boston. My career focus for the last couple of years has been developing web applications and REST APIs. Bradley Skubic, also a Cal Poly SLO 2016 statistics graduate, and I are engaged and planning a wedding for 2023. He is the corporate accountant for Kings Dining & Entertainment. Also doing wonderfully, though not pictured, are our two cats: Bubbles and Cookie. 
Ivan Matsiyeuski 
I moved to the Bay Area to start a job at a software company called Workday and be closer to my family after graduation. To this day I am with Workday in an analyst role and love it! I lived in Pleasanton, California, and worked at the main office there for about three years and then went remote. I currently reside in San Diego and love it as well.  
I feel lucky to be able to work remotely, even before the COVID outbreak happened. It allows me to travel and explore many places. I get to travel for work as well and see many great states of this country. I have no pets yet, as I am waiting until I am more settled down and own a home. It is a pain to move around as frequently as I do and have that commitment. 
I met my girlfriend Lexi in San Francisco while I was living near there. She was attending Sonoma State University at the time. She is actually from San Diego, which is how I ended up here. After she graduated, we decided to move to San Diego as well. Our four-year anniversary is coming up in April!  
I want to say thank you to the great professors in the department for all the skills that you helped me and other students develop. Although I don't use a lot of the advanced techniques I learned, which pains me sometimes, the Learn by Doing attitude alone allows me to excel in my role. I do have an interest in data science and hope to make a transition into a more technical role in the coming years.  
Danny Rithy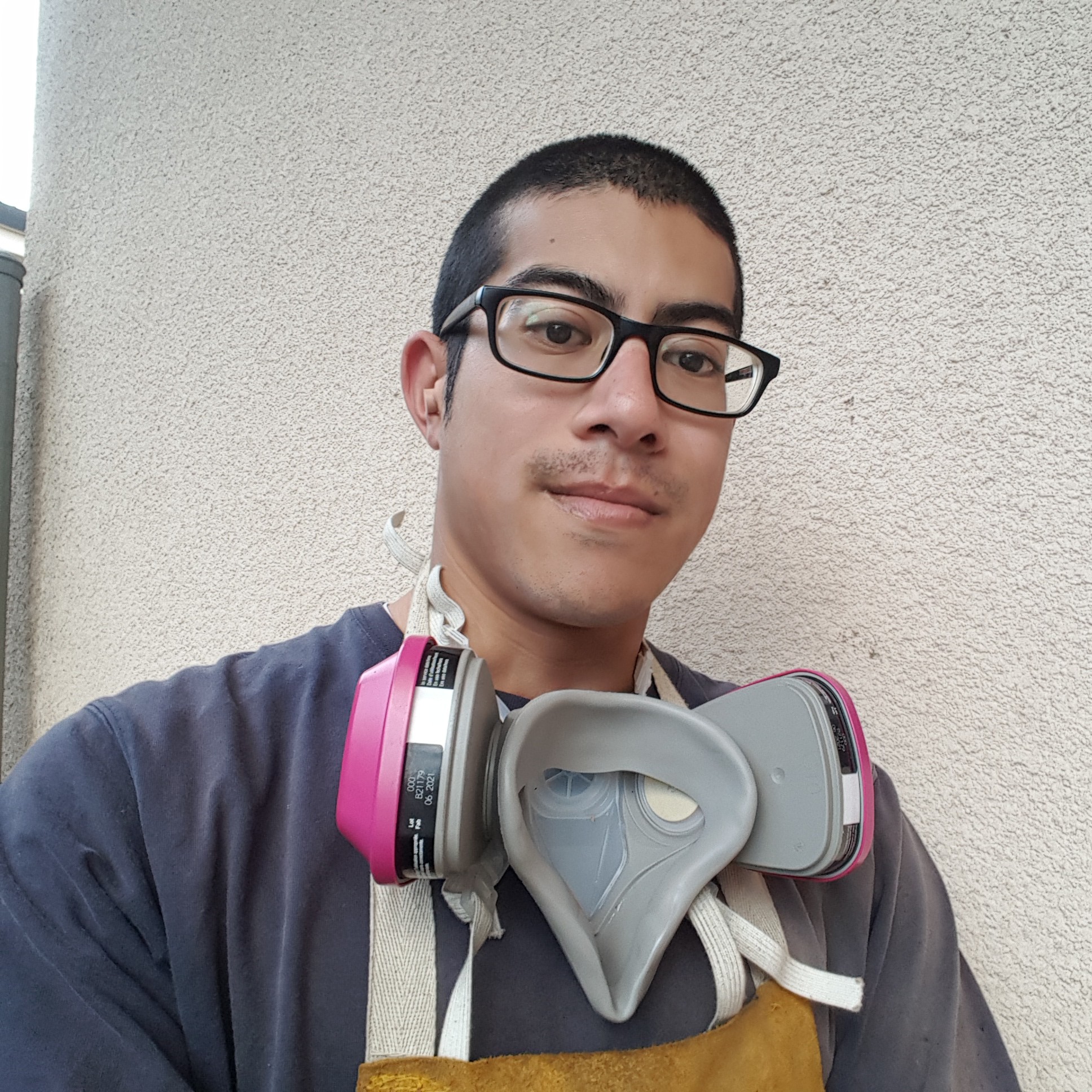 Since Cal Poly, I've been doing a lot of things that I didn't get a chance to do while in school. I've been learning cooking/baking, welding, cars and foreign languages. I've been taking welding classes since last summer, and it's fun and challenging at the same time. I passed the certification exam, so I'm certified to do stick welding in a flat position (SMAW 1G). I've visited seven states, and I enjoy Montana the most. 
 
I'm enjoying life so far. Despite working with many people at work, I haven't got the virus. I am actually considering going back to school to pursue a master's in statistics. 
Bradley Skubic 
(See Donna Martin, Class of 2016.) 
Megan Whitworth 
I am coming up on my sixth year of working as a data scientist for The Walt Disney Company and was recently promoted to a senior position on my team. The week after I graduated from Cal Poly, I moved across the country to the sunshine state with just two suitcases to start my internship at Disney. After about a year of interning, I was hired full-time by my team and continue to work with them. It's hard to believe I have been living in Florida longer than I lived in SLO, but I guess time does fly by.  
Walt Disney World is currently celebrating its 50th anniversary, so it has been a lot of fun being able to go to the theme parks during this historic milestone!  
2015
Leland Bailey 
I am currently working for the Department of Head Start branch of the Federal Government, spearheading their many data analysis projects. Still living in Oakland! 
Julia Goll 
I bought a home in Laguna Hills and had a baby last year. I am staying at home and enjoying my time with my sweet baby! 
Cary Hernandez 
I cannot believe it's been seven years since graduating. I greatly miss Cal Poly and SLO, but I try to visit every few months to see what's changed.  
I have been living in Berkeley for the last two years and working remotely for Intuit as a data scientist. It's strange times we live in with the pandemic — I just saw the office for the first time after being with the company almost two years. I recently got an Australian shepherd, which has been keeping my hands full outside of work. I hope everyone's doing well and being safe during the pandemic.  
Martha Mejia-Henao 
I am in my sixth year at Hyundai Motor America. Working at Hyundai has been really rewarding and fun because I have been able to apply data and statistics knowledge to many different areas of the automotive industry. Most recently, I moved from analyzing vehicle quality data to analyzing and managing our dealership service data. My focus has been measuring the impact of electrification and autonomous driving on our dealerships. With so many advancements in the automotive space comes a lot of fun new data to analyze.  
Jeremy Mulcahy 
I continue to attribute much of my success to the foundation I built at Cal Poly. I'll always appreciate the connections I made there and feel grateful to the faculty for devoting so much time and energy to making sure their graduates are capable of solving any problems that come their way. Personally and professionally, I'm based in Atlanta now and still working for State Farm. After a short-lived year of project work, I'm actively transitioning into another leadership role. I do occasionally miss diving deep into a complicated problem and trying to surface an appropriate and valuable solution. However, since I love developing data science talent and trying to solve issues around equally important parts of our work from business partner education and scoping to implementation, I'm very happy with my new role. 
Chelsea Obrochta 
I'm currently living in San Diego with my fiancé, Mike, and two dogs, Fiddler and Paisley. I'm working remotely as a senior manager, epidemiology at Alexion, AstraZeneca Rare Disease and am teaching Introduction to Epidemiology to master's and Ph.D. students at San Diego State University. I completed my Ph.D. in epidemiology in September 2021 from the University of California, San Diego, and my master's of public health in epidemiology in 2017 from San Diego State University. My areas of expertise include cancer epidemiology, health disparities, prenatal epidemiology, geospatial epidemiology, integrative data analysis, electronic health records for research, epidemiologic methods (descriptive epidemiology, epidemiologic study design, confounding, selection and information biases, epidemiologic data analysis and applied regression modeling), causal inference theory and methods (potential outcomes framework, sufficient component causes framework, directed acyclic graphs, causal mediation analysis, propensity scores, G-methods), methods for missing data (multiple imputation, quantitative bias analysis) and Monte Carlo simulation studies.  
Phillip Richardson 
I started a position this summer as a data science consultant with CapGemini. I am currently working with NBC to support their content data science team. It was exciting to get out of the insurance industry after six years! 
 In the meantime, I live in downtown Walnut Creek with my two cats and have gotten really into boardgames and building mechanical keyboards during the pandemic. 
Robin Tu 
I'm finally getting out of grad school (defending on March 25), so UIUC will need to find a new bioinformatics TA! It's been a long process. My project I wanted to include as my last chapter didn't pan out as I expected (minimax with likelihoods is very fickle), so I'm putting my first paper back in as the first chapter. I'm in the middle of cleaning up the thesis and prepping slides for the defense.  
Afterwards, I will be working for Northrop Grumman in one of their rotation programs where each year I'm sent somewhere new. I honestly have no clue where they're sending me, what I'm working on or where I'll be in four months. This was a job I actually applied for and got last year, so I'm surprised they stuck it out for a whole 12 months as I figured my thesis out. If all goes well, I may find myself back in SoCal, hopefully doing some statistics and not writing Pytorch code all day (If that's your thing, more power to you!).  I would prefer somewhere that doesn't get more than a foot of snow at a time during winter, but I've been in the Midwest for so long that I'm sure anywhere will be an improvement.  
This is my first winter running primarily outside without the luxury of a treadmill or indoor track (due to COVID), and it's been extremely challenging to deal with cold temperatures (weeks where highs are 20F), wind, snow and black ice. Snowplows here really like stacking the snow on the sidewalks.  On the bright side, I've logged my first few 100-mile weeks running, and if I stay healthy (not slip on ice like I did last week), I hope to run a few marathons this year in the 2:40 to 2:45 range.  
Related Content