Faculty Updates 2017
Collaborating with Japanese statisticians, chairing the American Statistical Association Section on Statistical Education, and investigating sustainable vineyard practices are all in a day's work for Cal Poly statistics faculty. Check out their many activities and accomplishments below. 
Current Faculty and Staff
Prince Afriyie
My first year at Cal Poly has been eventful. In the past year, I collaborated with colleagues from the Viticulture and Chemistry departments on projects such as characterizing soil microbial communities as influenced by sustainable vineyard practices. I taught our business statistics sequence courses, statistics for the life sciences and quantitative methods courses for MBA and master's in accounting students. The other part of my first year was a fun-filled exploration of San Luis Obispo with my wife and Simba, our adopted "schnoodle" (schnauzer-poodle). We spent our leisure hours discovering the awe-inspiring sights and beauty of the San Luis Obispo area.
Kelly Bodwin
I just finished my first quarter here at Cal Poly — whew! I absolutely love it here. This quarter I taught 218, and it's been a lot of fun to incorporate the Learn by Doing motto into my teaching. In the spring, I'll be teaching 419, Multivariate Statistics, which I'm really looking forward to. In between teaching and getting settled, I'm continuing my research in data mining and trying to beef up my programming skills so I can work on massive data. Outside of work, I'm taking advantage of being back in California by spending a lot of time outdoors, getting to know San Luis Obispo, and visiting my friends and family. Every day I feel lucky to be a part of this wonderful department and to live in this beautiful place.
Beth Chance
I had some fun new professional challenges this year, ranging from teaching an operations research course for the Industrial and Manufacturing and Engineering Department for the first time in many years, to trying to teach modeling and randomness to fourth through sixth graders. With my family, I also enjoyed a week at Glacier National Park in the summer. In January, I officially become chair of the American Statistical Association Section on Statistical Education, so if you have any thoughts on how the section can help you or be helped by you, let me know.
Kevin Clancy
I am now in my third year of teaching statistics at Cal Poly and have been mostly teaching the business statistics classes, 251 and 252. This past June I spent a week grading AP Statistics exams in Kansas City and had a blast, so I plan to do it again this year.
On a personal note, I recently adopted a greyhound/pit bull mix who has been keeping me in great shape since she needs long runs every day. I've also recently taken an interest in rock climbing, so you may find me climbing up Bishop's Peak on weekends.
Katie Doctor
Last year was full of big, exciting changes. In July, after more than 20 years in Texas, I moved back home to the Central Coast of California and took a new job at Cal Poly. After eight years at University of Texas at Dallas, I joined the Statistics Department as their new administrative coordinator. I have enjoyed getting to know the faculty, staff and students and feel fortunate to work with such a great group of people. My time away from work is spent enjoying everything the Central Coast has to offer with my kids, family and both new and old friends. I'm thankful every day to be back home and looking forward to a great 2018.
Jimmy Doi
This past year I continued collaborations with Japanese statisticians I first met during my spring sabbatical in 2016. In January 2017 I visited Shiga University in Japan and gave a presentation at a data science workshop. For most of July 2017 I visited the Center for Statistics and Information (CSI) at Rikkyo University in Tokyo and translated 30 statistics lectures from Japanese to English for their newly developed e-learning program. I also read and recorded English audio narrations to accompany each of the lectures. 
During this visit I was also asked to give a two-hour statistics lecture at Takasaki Super Science High School in nearby Gunma prefecture. That lecture was a unique — and harrowing — experience because I had to give the presentation entirely in Japanese, which was something I had never done. 
The director of Rikkyo's CSI, Kazunori Yamaguchi, visited Cal Poly in October 2017 and met with the staff of the Cal Poly International Center and staff of the College of Liberal Arts to discuss the possibility of adopting Cal Poly as a partner institution for Rikkyo's Global Liberal Arts Program. There appears to be mutual interest in moving forward and, if the adoption is successful, I will be serving as the Cal Poly faculty representative. 
In other news I continue to pursue research interests in the area of optimal confidence intervals for discrete distributions and am currently working on a paper with my previous co-author Mark Schilling from CSU Northridge.
Samuel Frame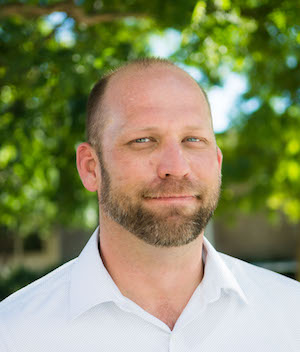 Over the last year, I encountered extremes in my teaching workload. During Fall 2016, I taught seven classes in four and a half months — five during the regular term across three curriculum levels. It was tough! I taught two classes in winter 2017, and then was on sabbatical during spring 2017. For my sabbatical, I rewrote all my Asymmetric Jump Diffusion (AJD) code in R (previously MATLAB), completed and extended a study of the AJD volatility of the S&P 500, then developed an analysis and a trading strategy to trade Chicago Board Options Exchange (CBOE) Volatility Index (VIX) options. I also had time to finish and submit two papers from my Starmine Predicted Earning Surprise project. I am grateful for the chance to do research for that entire term, and the contrast to fall quarter was pretty apparent. The current academic year returns me to a more normal schedule and balanced workload. The twist this year is that I am developing an online version of STAT 252 with support from the university through Cal Poly's Quality Online Teaching Academy, and I will tentatively be teaching my first fully online class in Spring 2018.
Hunter Glanz
My wife and I enjoyed a wonderful three-week trip in Europe in 2017. I've been thrilled to be involved with students in our summer research program and am looking forward to attending the International Conference on Teaching Statistics 2018 in Kyoto, Japan this summer to speak about some new and exciting things I have introduced to our courses in SAS and R. I am especially excited to be teaching our new course in statistical learning this upcoming spring 2018.
Billie-Jo Grant
This winter will mark my third quarter as a lecturer at Cal Poly. I've enjoyed teaching introductory statistics classes for undergraduate and graduate students (130, 217 and 511). I am currently enrolled in the Online Teaching Academy, and I'm getting excited about teaching STAT 217 online in the spring. The last two years I was a principal investigator for a Department of Justice School Safety Grant and hope to continue that important work in 2018. Happy to report that an article I assisted with will appear in Psychological Trauma: Theory, Research, Practice, and Policy. Personally, our family welcomed a daughter in December 2017, and we are thrilled!
Ulric Lund
In fall 2017, I enjoyed a quarter on sabbatical, researching ways to combine and analyze various disparate data sets to measure bicycle safety on the California city level. It's been a lot of fun, working with SAS and R for data management and GIS methods, and learning the theory and implementation of some Bayesian regression models that are used in the traffic safety research sphere. Speaking of traffic safety, my current extracurricular activities include teaching my 15.60-year-old teenager how to drive (the precise age was computed for you using the SAS YRDIF and MDY functions, by the way). I horrified her by ordering a 4x12 inch, yellow, glow-in-the-dark, "Student Driver" magnet that I proudly slap on the trunk of the car before we take off. Safety first!
Shannon Pileggi
One resource I discovered in the past year is DataCamp, which I have been using myself to learn new coding skills. In
addition, I have been assigning DataCamp courses to students working on summer research and senior projects for them to learn skills relevant to their projects, and I even worked with a summer research student last summer to create a custom DataCamp course for STAT 217 students. I have been enjoying playing soccer in the lunchtime faculty/staff soccer league on campus (and scoring goals on Gary Hughes and Prince Afriyie). On the weekends, my family enjoys going downtown for a meal, and we have a unique family commuting arrangement – my husband rides his electric skateboard while my two-year-old daughter rides with me in our new family tricycle.
Allan Rossman
I am now in my fifth year serving as chair of our department, and I continue to teach a variety of introductory statistics and probability courses. One of my favorite parts of being chair (I kid you not) is keeping in touch with our terrific alumni by imploring them to send updates for this newsletter. On the personal side, my wife and I have been traveling more and more as time goes by, including to several Greek and Hawaiian islands (not on the same trip) in the past year.
Soma Roy
Highlights from this past year include working with statistics majors on their senior projects; traveling to Baltimore, Md., to attend the Joint Statistical Meetings in July; and collaborating with several statistics educators from the Cal Poly Statistics Department as well as other schools around the country to develop curricular materials for teaching statistics. 
 
On a personal note, my husband and I found out that our one-year-old son can stay occupied wiping down tray tables on airplanes for close to seven minutes! 
Kevin Ross
This past year, Dennis Sun and I continued to develop Symbulate, a Python package that provides a user-friendly framework for conducting simulations using the "language of probability." Over the summer we worked with three Statistics majors — Robert Cenon, Jack Conway and Howard Liu — who made substantial contributions to the package. On a personal note, I took a fun camping trip with my family to Bryce Canyon National Park and the Grand Canyon. 
Anelise Sabbag
This is my second year at Cal Poly, and I am glad to say that my first year as an assistant professor in the Statistics Department was great. It was fun to teach introductory statistics courses (STAT 130 and STAT 217) and a privilege to co-teach STAT 410 with Beth Chance. I also started the process of turning STAT 217 into an online course. It is a challenging but fun process. On a personal note, I traveled to Miami during the summer, and it was perfect. The warm water made me feel like I was back in my home country of Brazil. I also got the news that I will be an aunt. YAY!
Andrew Schaffner
One advantage of being here as long as I have (20 years now!) is that I've gotten to know faculty across the campus as both friends and research collaborators. I am so fortunate to have partnered with professors Phelan, Hagobian, Ventura and Papathakis among others on their many projects and then to have shared their studies and enthusiasm about the work in my classes. As class examples and discussion, their data showcases the use of statistics not only for advancing science but also for genuinely benefitting global health and wellbeing. I love knowing that however small my contribution, my efforts advance the health of moms and newborns locally, nationally and most importantly in less fortunate parts of the world.
On a more personal note, I'm pleased to report that my son has just applied to Cal Poly (as a physics major, but I won't hold that against him). Fingers crossed!
Maddie Schroth-Glanz
This past year has been an exciting one for me both professionally and personally. Along with teaching my statistics courses, I have been collaborating with a researcher in Moss Landing trying to extract "bubble sequences" from acoustic recordings obtained from tagged whale data. It has been a long and challenging process, but I am very excited to be a part of it.
Outside of my professional career, I found that I have caught the travel bug. My husband and I had two amazing trips last year to Bali and Eastern Europe, and I find myself continuing to plan more adventures. Next summer we are hoping to brave the Inca trail to Machu Picchu and spend some time in Japan. However, what I most look forward to in my downtime is hanging out with my dog Jake.
Robert Smidt
 My wife and I took several trips this past year. We cruised around the Caribbean, traveled to Yuma to visit and golf with former faculty member Dennis O'Brien, took a river cruise from Amsterdam to Budapest, and toured Italy for several weeks. I also made extended golfing trips to Utah and Palm Springs. This is my last year teaching in the faculty early retirement program, so any future teaching will be based on the department's needs. I continue to conduct advanced placement statistics workshops in places like Houston, Texas; and Fayetteville, Ark., and to travel to Kansas City with other faculty members to grade the AP Statistics exam. I still play racquetball and golf (not well) and attend numerous plays and concerts.
Dennis Sun
I'm in my third year in the Statistics Department and loving it so far. In my time here, I have mostly been working on designing and teaching the new data science courses. I work part-time as a data scientist at Google, and it's been fun to think about how to generalize the skills I use as a data scientist and teach them to students.
This year, Kevin Ross and I submitted a paper on Symbulate, a Python library for conducting simulations that we have been developing. I have also been supervising many exciting senior projects, some of which I hope will also turn into publications. Outside of school, you might find me at Woodstock's for trivia on Tuesday night, where our department's team has developed a formidable reputation!
Former Faculty and Staff
Melody Pietsch
Retirement: the act of retiring, withdrawing, or leaving; the state of being retired. The definition of retirement doesn't do it justice. I officially retired from more than 30 years at Cal Poly in August of this year. However, my true retirement began in July when I started using the vacation time I had accrued. 
The first activity of retirement was a trip to Montana to visit our daughter. My favorite spot on earth (to date at least) is Holland Lake. We stayed in a cabin and spent two days kayaking, reading, relaxing and eating scrumptious food prepared by the chef at Holland Lake Lodge.
We returned home in time to ramp up planning for our son's wedding in November. The wedding was beautiful, romantic, so much fun and we love our new daughter! My amazing family (John and my daughters) planned a surprise birthday party for me the day after the wedding. (They had to tell me about it because I was in planning mode and was wrecking their plans.)
What am I doing with my time now that I am retired? Well, I am so busy that I truly do not know how I did everything when I was working all day. I'm playing with my friends (the ones that are already retired), visiting my grandkids and my sister, enjoying my home, quilting with friends, getting involved with our church and planning more trips — the first for our 30th anniversary in 2018.
I miss seeing my friends from the Statistics Department (faculty and students) on a daily basis and staying involved with their lives. That is the only downside of not being at work that I have experienced. I still do meet up with friends on campus and off to catch up, but it isn't as easy as seeing them every day in the office.
Jay Devore
Hi, all. My teaching career ended several years ago, and now it appears that my textbook writing career of almost 40 years will shortly meet the same fate and I will be 100 percent in retirement mode. My wife and I have enjoyed traveling to the East Coast to see our daughters and their families  with a total of three adorable grandchildren. We also venture overseas occasionally. I retired from tennis because of rotator cuff problems and get my exercise these days primarily by walking. I read a lot, starting my day with the New York Times. Unfortunately most national and international news is depressing.
I hope you are finding satisfaction both personally and professionally and retain fond memories of your statistics education at Cal Poly. 
Roxy Peck
This has been a busy year for me with a lot of work and plenty of travel. I continue to keep busy in "retirement" and have been working on text book revisions and several curriculum development projects that involve writing and reviewing materials that incorporate statistics and data analysis into the K-12 math curriculum. I have also been working with a number of community colleges throughout California as they try to modernize their introductory statistics courses in terms of content and pedagogy.
Probably the highlight of the year was a trip to Eastern Europe. I had the opportunity to give a teaching effectiveness workshop at a conference in Moldova (a very small country situated between Romania and the Ukraine) and spent some time traveling in Romania after the conference. Romania was a real surprise to me — stunningly beautiful landscape especially in the Carpathian Mountains in the north of the country.
At home, my big remodeling project is now complete. I enjoy spending time at home and am even doing a bit more cooking. Brought home a new corgi puppy in August who is keeping me on my toes. He has a LOT of puppy energy but makes me laugh out loud at least once every day. Looking forward to 2018 when I hope to find a better balance between work and play, with more time for play and travel. But it seems like I say that every year, so we will have to see.
Related Content